DISCLAIMER: The following article reflects views of the author and the author alone. 
Anything other than historical fact should be dismissed strictly as B.S. from a BS fan.
---
Ten years after essentially forging the heavy metal genre with their 1970 self-titled debut, Black Sabbath released their ninth full-length album, Heaven and Hell. By the end of 1980 Heaven and Hell had amassed critical and commercial acclaim, selling over a million copies in the US alone. Neither of those sentences should come as too much of a surprise until you consider that Sabbath managed to not only stay afloat in an uncertain new decade with a completely different personality at the front, but remarkably maintained relevance, excellence, and popularity.
Sabbath's Black Background
I'll be diving more into Sabbath's origins in for the 50th anniversary of Paranoid in mid-September and there's an overwhelming abundance of text concerning the group's early years, not to mention they're one of the most recognizable bands in the history of rock music (duh)…so let's jump to the pivotal transition from Ozzy Osbourne to Ronnie James Dio.
Personally, I love Ozzy and truly admire his more recent strides in sobriety, especially in light of his separation from Sharon (and as an admitted addict myself). But there's no disputing the complete mess he's been for pretty much the entire duration of his career. I mean, you're talking about the lead singer of a group who'd penned an anthem for pretty much every recreational drug of the time, be it marijuana ("Sweet Leaf"), LSD ("Supernaut"), magic mushrooms ("Fairies Wear Boots"), cocaine ("Snowblind"), heroin ("Hand of Doom"), or just plain ol' alcohol ("Master of Reality" – Ozzy's self-applied nickname for when he was stumbling drunk).
That's not to say that he was the only one though, considering Black Sabbath used to have cocaine flown in by private plane and spent somewhere between $15,000 and $60,000 (approximately $92,625 – $370,500 in 2020 USD) more on the substance than they did for Vol. 4's entire budget in 1972, according to bassist Geezer Butler. But while that drug-addled atmosphere ultimately proved successful through Sabbath Bloody Sabbath [1973] and Sabotage [1975], by the late '70s Osbourne had begun to lose interest in the group and vice-versa. Ozzy's usage continued to the point that his oddly catchy hap-hazard utterings would reinforce the lack of discipline required for a proper instrument, and would often get hammered while guitarist Tony Iommi (arguably the backbone of the band), drummer Bill Ward, and Butler spent hours writing new material together, only to have Ozzy lean into the vocal melody well after the fact.
With the stress of legal battles central to Sabotage's production still looming overhead and Black Sabbath slowly losing their once unstoppable spark, Iommi spearheaded the largely-experimental Technical Ecstasy [1976] in an attempt to keep the band's sound "modern" among the exploding popularity of punk and new trends in rock defined by groups like Queen and Foreigner. And as Iommi was pulling his hair out over the involuntary task of single-handedly producing Technical Ecstasy and doing cocaine to the extent that Butler's stated they had to scrape "about a pound of cocaine" out of the mixing board before recording, Ozzy was of course, busy enjoying the beach and bar scene in the Miami area surrounding Criteria Studios.
The first lineup change amidst Ozzy's predictable unpredictability came after Osbourne abruptly left Black Sabbath while rehearsing for their next album and was quickly replaced with Iommi's longtime friend and former Fleetwood Mac/Savoy Brown member Dave Walker. Although Walker showed promise as a co-composer with Sabbath and Ozzy's depression over the last several records became undeniable, Walker was relieved of the group just three days before entering the studio after Osbourne got cold feet and came back, though he refused to sing anything Walker had written, leaving Black Sabbath empty handed and reliant on dope upon recording  the disaster that is Never Say Die! [1978]. Following an exhausting world tour (contrasted with the youthfully energetic Van Halen as openers), all four members were strung out and the writing atmosphere became toxic, but Ozzy's alcoholism was on a completely different level than the rest of Sabbath's vices.
By the tail end of the '70s Osbourne, though still willing to show up to practice hardly cooperated with Iommi, Ward, and Butler and after a near yearlong recording process befuddled with bickering and substance abuse, Ozzy Osbourne was fired from Black Sabbath.
The Mystique of Dio
Ronnie James Dio has always been a character. Born to Italian-American parents in New Hampshire in 1942 and raised in Cortland, New York, Ronald James Padavona never received formal voice lessons and instead attributed his impressive breath control and dynamic range to an early exposure and discipline on trumpet starting when he was five. In 1957 while still in high school Padavona formed rock-n-roll quintet "The Vegas Kings" with himself on bass before re-dubbing the group "Ronnie and the Rumblers" and finally the following year as "Ronnie and the Red Caps" culminating in his debut as a lead singer with the Red Caps' second 45, "An Angel Is Missing"/"What'd I Say".
There's a lot of debate surrounding where the moniker "Dio" came from, be it a reference to then-active labor racketeer Giovanni "Johnny Dio" Dioguardi or simply the declaration of Padavona's birth as a gift from God ("Dio") from his apotropaic Italian grandmother (who definitively influenced the iconic use of "devil horns" – explained by her as the corna meant to ward off mallochio or an "evil eye"). But whatever the origin, The Red Caps once again adjusted their handle to "Ronnie Dio and the Prophets" in 1960 and coasted across the decade touring the New York area and playing the frat party circuit.
In 1967 the Prophets added a keyboard player and for the fourth time changed their name to "The Electric Elves", a move kept momentary by a band-wide car accident that hospitalized Dio and others and ultimately killing The Vegas Kings founding guitarist, Nick Pantas. From early '68 to mid '72 Dio fronted "The Elves" before switching up to what would over time become his springboard to metal stardom, Elf.
Between the eponymous Elf [1972] and Carolina County Ball [1974], Dio helped revitalize heavy blues rock in an era concurrent with Rod Stewart's fronting of the Jeff Beck Group in a way that was oddly in-sync with Ozzy's besetting of blues in Sabbath's early days. Dio's undying determination kept him eager for more and soon he found himself fronting the Deep Purple/Richie Blackmore offshoot Rainbow.
Don't get me wrong, Rainbow definitely has the blues tonal, gut-wrenching, and pitch-perfect vocals that are intrinsically belonging to Dio, but it's almost like he filled in for Jack Bruce on vocals on an unreleased late Cream record…the ruggedness is almost out of place. Yet the determined Ronnie James Dio kept getting bolder and more lyrically expressive until one chance meeting changed the course of his career, as well as Black Sabbath's forever.
Can Sabbath hold a Black Mass without Ozzy?
Here's the thing about Dio. He either had the rotten luck of being a 20th-century rockstar born several centuries too late or instead a renowned regal poet sent forward from the middle ages to protect our current timeline. Dio's love of lyrical storytelling and fantasy was groundbreaking for Black Sabbath, even after Ozzy had occupied their first decade with sci-fi and similar folkloric psychedelia. He's a guy who loves to incorporate tales, no mater how tall they are, and with the clear-headed performance conscience that the once-political-minded Osbourne lacked. He's a modern day muse. That simple. So when Dio was first suggested by Black Sabbath manager Don Argen's daughter Sharon (who later married Ozzy in 1982), the move wasn't all that hard. I mean, the dude had gumption (at least enough to defend against demons with a hand gesture) and this wasn't his first line-up switch by a far margin.
There were certainly Ozzy purists noticeably before Dio's involvement when Heaven and Hell was announced, but was it really about character, vocal timbre, or crowd-corralling presence as a frontman? Whatever it was, Tony Iommi seemed calmer than he'd been in the last half-decade with the instant chemistry he developed with Dio. But was it a pastiche of the iconic original Ozzy? For me, Ozzy sang with a lot more expressive outrage, only joining lyrics to melody when it made sense (of course, after a psychedelic cocktail). Whereas with Dio, his lyrics seem to inform a medieval and otherworldly codex of direction.
---
Was Ozzy's peace sign mocking of Richard Nixon on Vol. 4 a stage-setting gesture of Dio's emblematic "corna" hand gesture?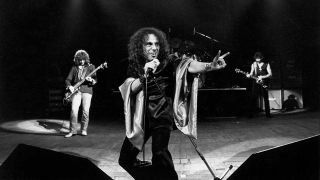 Or was it just a coincidence?
You be the judge.
---
Redefining Metal in the '80s
Given a loose (let's go with "slurred") early recording of Ozzy crooning over "Children of the Sea", Dio from Day One took his passion to the pen. The album opener, "Neon Knights" pays tribute to the emergent accelerated punk rock tempos while in the same arrangement making metal accessible to people who might've been in love with The Eagles or KISS at the time. But holy crap, "Neon Knights" leaves a virtuous of effortless vibrato keeping modest distance from Ionni's insane double tapping before returning to the head. As the track winds up, you can hear that total comfort and space "in the pocket" between Dio's fading vocal ad-libs and Iommi's less-than-typical but-still-much-loved guitar solo insanity.
Then you move onto the first composition of Heaven and Hell, "Children of the Sea" with Dio getting close to mimicking Osbourne's psychedelic falsetto before hitting the post on the lead lyrics (noted by Iommi as different from Ozzy's tape session scratch take both in melody and vocals). Holy crap. Talk about a guy who can unite a not-so-surprisingly rhythm section in the non-instrumental (READ: Tony Iommi-arranged) sections. Sabbath had had plenty of multi-section structures but Ozzy never had the reverb-free confidence that Ronnie in his almost shaming comparative level of pitch-perfectness.
"Lady Evil" is super duper Van Halen-influenced and fittingly featuring Tony Iommi with a ton of extra riffs.. It certainly accompanies the popularity of Van Halen and Foreigner. Dio's holding back, y'all, even when he says "crying shout". This one's all Iommi. Dio's just the topping on the cake.
And then THE title tracks of title tracks. "Heaven and Hell". Starting off with an idiosyncratic Sabbath groove, Dio eloquently enters in his peak state as heavy metal muse and matches the instrumental intensity through multiple movements. Check the soft rock Fleetwood Mac-type influence from 2:16-2:36 especially. FINALLY the way this guy sings "love" and "freed" at 2:59 is unparalleled. Try me. And then…off into the psychedelic delay-ravaged guitar solo of Iommi. AND THEN HOLY BRIDGE SECTION…GOING INTO DOUBLE TIME SECTION all the while we have double tapping Iommi and the ever-fervent Dio. Talk about competing with punk. And even THEN you know Iommi's got more in his pocket. I friggin' love the slow, ominous fade of the medieval arrangement (something Ozzy wouldn't've approved of before the mid '70s).
After the four typical instrumental bars expected of Sabbath in, "Wishing Well," Dio shows no issues in counter-balancing Iommi's driving, technical high end melodies. This is what I imagine a Black Sabbath cover of Fleetwood Mac would sound like (minus the crippling internal romatic infidelity). The panning on Bill Ward's drums are insanely sloppy but so much into the groove that I can't hate on it.
What can we say about "Die Young" that I can't say about the rest of early '80s metal? Too much ambient synth. Too much guitar delay. Both likely inhaled from the Never Say Die! tour with Van Halen…But OH CRAP just short of a minute in, Iommi reshapes what you heard with the classic Black Sabbath formulas, complete with his trademark steel-finger- tipped double tapping, this time accelerated to match the likes of Eddie VF or Jimmy Page. The tempo change, jarring at first, becomes familiar n the percussion-free, synth-soaking bridge, dive-bombing back into a hybrid of early '80s-pop and late '70s-metal never created before.
"Walk Away" and the Heaven and Hell's wrap up "Lonely Is The World" both feel like Iommi finally felt confidence in his "leader" and learned to let go. There's that early heavy blues, languid rhythm coupled with the vast improvement on Ozzy courtesy of Dio's vocal technique and self-control.
Heaven and Hell was first distributed in the UK on April 25th, 1980.
Heaven, Hell, & Beyond
Five months after Heaven and Hell cemented Dio as Black Sabbath's new lead singer, Ozzy released his solo debut Blizzard of Ozz, introducing the world to guitar virtuoso Randy Rhoads and launching a still-ongoing international fan basis. To add to the oddities, Dio's assumption of lead lyricist after Ozzy in Heaven and Hell  was concurrent with Brian Johnson's 1980 replacement of Bon Scott (who, similar to Ozzy depended on and unfortunately perished from alcohol abuse) on AC/DC's landmark release, Back in Black.
Intrinsically, Dio could make everything, even the word "children" sound badass (See: "Children of the Sea" and "Rock 'n' Roll Children") and for me I'd have to side on the fault of psychedelic pareidolia when it comes to the claim of "Kill Ozzy" within the Mob Rules [1982] cover. Dio went on to front his mononymous group, most famous for "Holy Diver" in 1983. Several decades later, Dio corralled the affectionately titled Heaven & Hell neck-t0-neck with Iommi and Ward, with Butler filled by Vinny Appice for the smash live tour. And (just for me) Dio also provided one of my favorite and most-encouraging juvenile moments of Tenacious D & The Pick of Destiny.
Ronnie James Dio passed away in mid-May of 2010 at the age of sixty-seven in Houston, TX. Dio's well-covered aura has become ripe for recreation and criticism by way of hologram. Ozzy's still around (thankfully, at least for me – and not to discount my affection for Dio), as is one of my all-time favorite 8-tracks, Heaven and Hell.
---
–Jack Anderson
Support KUTX's ability to bring you closer to the music.