Yes, we just changed to a new look for kutx.org. One of the biggest changes is our site streaming player is now perpetual or infinite. When you click on the LISTEN button at the top of the site, the new player will appear at the base of your browser. You can now listen to our streams and navigate through the website without stopping the music. When you find a story with its own player, and you want to listen to that song or interview, just click its play button. The KUTX FM stream (or whatever you're actively listening to) will stop and the player will load your new selection. To return to the FM stream, click LISTEN at the top again.
If you're a fan of the old popup player, its streams and on-demand options, no problem. Click here to open the old KUTX player in a new tab. Or, scroll down to listen to the most recent episode of your favorite specialty show.
---
On-demand specialty shows
Soundfounder Wednesdays, 8pm-9pm
---
What's Next Thursdays, 8pm-11pm
---
Old School Dance Party Fridays, 4pm-7pm
---
Left of the Dial Fridays, 7pm-11pm
---
My KUTX Saturdays, 6pm-7pm
---
Uptown Saturday Night Saturdays, 7pm-10pm
---
The Breaks Saturdays 10pm-1am
---
Sunday Morning Jazz Sundays, 7am-10am
---
Spare the Rock, Spoil the Child, Sundays 6pm-7pm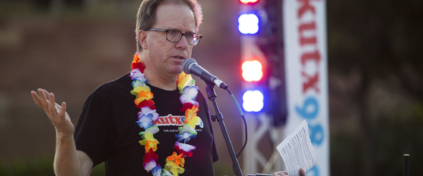 ---
Horizontes, Sundays 7pm-9pm
---
Global Grooves, Sundays 9pm-10pm
---
STREAM URLs
KUTX FM
AAC: https://kut.streamguys1.com/kutx-free.aac
MP3: https://kut.streamguys1.com/kutx-free
HLS: https://kut-hls.streamguys1.com/kutx/playlist.m3u8
KUTX HD2 — All Austin-based music
AAC: https://kut.streamguys1.com/amx-free.aac
MP3: https://kut.streamguys1.com/amx-free
The difference between AAC and MP3 streams is the method used to encode them, called the codec. The modern codec is AAC. It's more efficient and to many people just sounds better even though it doesn't use the same amount of bandwidth. The AAC codec is mobile-friendly and works for most devices.
HLS: Some browsers and players, like VLC and QuickTime, will natively play an HLS stream. iTunes will not play it, but you can use this HLS stream URL in some apps as well. Our HLS stream is the highest quality stream we provide.
Thanks for listening to KUTX on whichever digital platform you prefer. Feel free to send along your suggestions or questions as well.