For the last two years, we've been told to stay home, be careful, all that. So let's stay in—and get weird. Starting Friday, January 28, we want you to get under the covers with KUTX. All weekend long we'll play covers of songs you know, covers of songs you'll want to know, and songs that just might teach you a thing or two about a thing or two.
We'll start at 6 AM on Friday the 28th and end at 6 PM on the 30th.
And we've also got a special gift for you: donate $15 a month and we'll send you our new blanket. Get it? Like covers. But only for a limited time. Donate Friday through Sunday.
---
In case you missed Under the Covers Weekend, don't worry! You can still listen anytime below.
Old School Dance Party Fridays, 4pm-7pm
---
Left of the Dial Fridays, 7pm-11pm
---
My KUTX Saturdays, 6pm-7pm
---
Uptown Saturday Night Saturdays, 7pm-10pm
---
The Breaks Saturdays 10pm-1am
---
Sunday Morning Jazz Sundays, 7am-10am
---
Spare the Rock, Spoil the Child, Sundays 6pm-7pm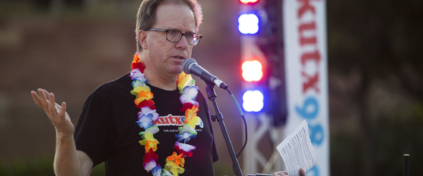 ---
From bar bands aping their favorite records to radical artistic remakes, cover songs are ubiquitous, loved by musicians and fans alike. Heading in our KUTX Covers Weekend, here's a few staff favorites.
Patti Smith – "Gloria"

One of my favorite covers is Patti 's version of Them's "Gloria" – the first song on her first album, Horses. I love how Patti starts her version with her own "In Excelsis Deo" – "Jesus died for somebody's sins but not mine" and then she and her Group do a slow build before the cathartic chorus. A gateway between classic rock and punk.
-Jody Denberg
---
Frank Ocean – "At Your Best (You Are Love)
Frank has one of the best covers of a cover I've heard. Originally an Isley Brothers song, then covered by the late great Aaliyah, Frank Ocean gives this song a less seductive feel, and adds more of a soul-bearing to the song.
-Fresh Knight
---
Karen Dalton – "Take Me"
Almost in spite of his own words, George Jones' immaculate voice soothed even during his saddest songs. If he had a vocal antithesis, it was Karen Dalton. Where Jones whispers hope beneath the sorrow, Dalton is only despair, her voice like jagged gravel on the floor of a condemned smokehouse. The tragic lyrics Jones wrote (with the help of another Texan, Leon Payne) for "Take Me" were not meant for his divine vocal chords, but for Dalton's cursed warble.
-Ryan Wen
Support KUTX's ability to bring you closer to the music.