24 Hour Left to Fund ACL Doc Kickstarter
The Kickstarter campaign for the Austin City Limits documentary A Song for You is in the home stretch, coming to an end at 9:01 tomorrow morning. So far, the Kickstarter has raised about $10,000 over its $125,000 goal, but still has a wealth of rare memorabilia for fans and supporters who may want to jump on the chance to have access to every remaining ACL taping for the rest of 2016 or own a rare or one-of-a-kind autographed ACL poster from say…Iggy Pop? Modest Mouse? Guided By Voices? The documentary premiered in a rudimentary version at this year's SXSW festival, but the Kickstarter's main purpose is to secure rights to the 70 or so songs used throughout the documentary, finish out the documentary with more archival footage, and to aid with distribution. You can find a link to the Kickstarter on our website. Just click "SoundCheck" in the features section.
MOBY On Porcelain: A Memoir
MOBY's memoir Porcelain documents his life from roughly 1989-1999; basically the struggle of the decade leading-up to the release of his groundbreaking album Play. To summarize the memoir in his own words, MOBY said "I start out as a sober Christian in a tiny loft in an abandoned factory, and I end the book in a very different place…I'm just a clueless and panicked human being trying to make sense of the strange worlds in which I found myself…I tried to be as honest as I could." Porcelain: A Memoir comes out on June 17th, and MOBY will be doing a Q&A and signing at Book People on June 19th.
Monday a Day of Declarations
Yesterday was a day of declarations in the name of music influence. Minnesota governor Mark Dayton declared May 23rd Beyonce Day, citing her influence on young women and girls through the use of positive messages in her music. A couple of states over, the mayor of Detroit declared this entire week Detroit Techno Week. The declaration coincides with this year's annual Movement festival, a 3-day techno music affair, and was inspired by the city's place as a magnet for music lovers and recognition as the birthplace of the techno genre. Alright President Obama, just throwing it out there, annual National Prince Day?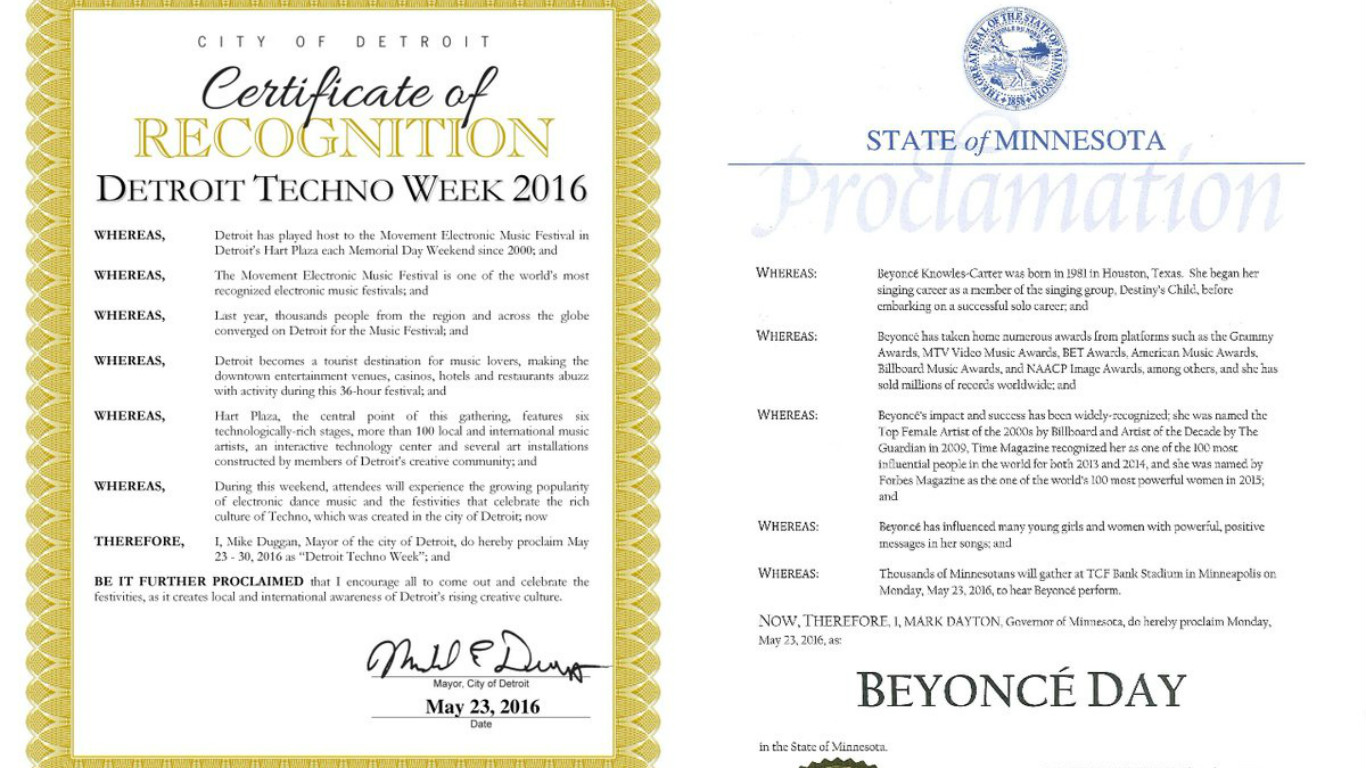 Support KUTX's ability to bring you closer to the music.